Nikolay Onishchenko. Exhibition "M

ist. Halt

". Within the "Great Expectations" series

Department of Culture of Moscow
Museum Exhibition Association Manege
Manege / MediaArtLab Centre for Art and Culture
Triumph Gallery
June 23, 2014. 19:00 — Exhibition opening
June 24 — July 13, 2014, 12:00 — 22:00
Central Exhibition Hall MANEGE, Manezhnaya Sq., 1, Media Library, 2 floor
Curator Elena Rumyantseva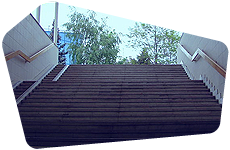 In his new project called "Mist. Halt" Nikolay Onishchenko addresses a topic of illusory nature of reality. In his video works Onishchenko suggests a way to overcome "bias" of the first glance and a possibility to experience an ability of "pure" perception of space and time by taking a meditative step back.
Viewer's look is fixed on empty playgrounds and underground parking lots being transformed into transit zones of urban environment. They represent a metaphor of a stop, of a temporary interruption of the usual course of events. Fog beclouding the image and meditative electronic buzz replacing usual background sound gradually transform the image into the "white noise". A slow rhythm transforms the narrative into dynamic, almost monochrome graphics. In this regard, Nikolay Onishchenko's videos remind of Michael Haneke's movies: static scenes and detached view of the artist lend almost cinematographic aura to his works.
The exhibition project "Mist. Halt" continues the artist's series, in which time and space intertwine and stratify, giving an extra dimension to the viewer's perception. Minimalism of means of expression and almost complete absence of narrative in Nikolay Onishchenko's works create a possibility of exit into a state of pure contemplation.
---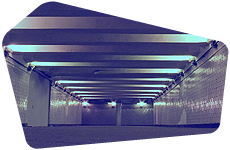 Nikolay Onishchenko (born 1979 in Voronezh) graduated from the Department of Graphic Art of Voronezh State Pedagogy University and the Institute of Contemporary Art (Moscow). He works with video, photo, installation, performance, graphics and painting. Lives and works in Moscow.
Solo shows: «Garbage and Senses» (BOREY ART CENTER, St.Petersburg, 2014), Metaobjects («Perimeter» art platform, Moscow, 2014), «Industrial romance» (Moscow, CCA WINZAVOD, 2011).
Group shows: «Urbanism, Pro&Contra», (Cult-project Gallery, Moscow, 2014), Uchronia, V Moscow Biennale of Contemporary Art (Museum of Architecture, Moscow, 2014), «Expanded Cinema – 3. Mocumentary: Reality is not enough» (MMoMA, Moscow, 2014), «Outdoors! » (ArtPlay Design Center, Moscow, 2012), «Sorry, can I try next time?» (Art.Ru Agency, Moscow, 2012), Reflexion Total (Viseum Wetzlar, Germany, 2012), «Impossible Community» (MMoMA, Moscow, 2011), FRAGILE – VII International biennale of contemporary art (Shiryaevo, Samara, 2011), «Inner Emigration» (CCA WINZAVOD, Moscow, 2011), ArtHouse Genzel (Germany, 2011), «Transformations» (KhLAM Gallery, Voronezh, 2010), «On the Contrary» (CCA WINZAVOD, Moscow, 2011), «Relative freedom» VIII International Festival of Experimental Art (St.Petersburg, 2010), «Infrastructure» (Moscow, 2010), I Photobiennale of the Russian Museum (St.Petersburg, 2009), «Signs of absurd» (performance, St.Petersburg, 2009).
Curatorial projects: «ВездеVezde» (Spider&Mouse Gallery, Moscow, 2010).
---
Venue
Central Exhibition Hall MANEGE
Manezhnaya Sq., 1, Media Library, 2nd Floor
www.moscowmanege.ru
---
Contacts
Anna Buali
+7 (926) 582-02-81
bualianna@gmail.com