About XV Media Forum
Organized by: MediaFest, MediaArtLab Centre for Art and Culture, Mediafest, Museum Exhibition Complex "Manege"
Partners: Moscow Museum, International Centre for Dance and Performance TsEKh, Theatre "Balet Moskva"/ Ballet Moscow, Triumph Gallery

Media Forum in MIFF catalogue (.pdf)
---
From Montage of Attractions to Neurocinema

Media Forum is organized as part of the Moscow International Film Festival. The role of new media in audiovisual art and culture received due recognition and Media Forum was immediately introduced into the official program of MIFF. Media Forum as action is an exchange of ideas, infusion of new forces into contemporary culture and vice versa. It is an attempt to demonsrtate the logic of new thought and new communications. At the moment it is inside media culture that new ideas go through trial and approbation, ideas that cannot be realized in contemporary art context.
Moscow International Film Festival (MIFF) is held since 1959 and gradually it has become one of most respectable and prestigious film-forums in the world. In 1973 MIFF was registered by the International Federation of Film-producers associations (FIAPF) as an «A» class film festival alongside with those in Berlin, Cannes, San-Sebastian, Karlovy Vary and Venice.
Current Media Forum is held at the Moscow International Film Festival for the 15th time. Such an age suggests not summing up but planning for the future.
The Medua Forum emerged as a footnote to the big text of the festival — a note about experimental cinema. Video art in its opposition to television was looking for a friendly support from the side of festival cinema. But the footnotes have been growing bigger, commentaries have turned into a separate text, and three years ago the XIII Media Forum took a step "Towards the Tactile Cinema" at the same time moving out of a cinema auditorium into an exhibition space. In particular, these were galleries' spaces and Moscow Museum of Modern Art, Cultural Foundation Ekaterina, and Garage Museum of Contemporary Art.
---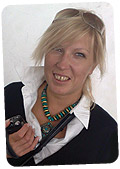 Olga Shishko (art historian, curator, artistic director of the MIFF Media Forum):
"Throughout the 20th century famous artists, including the biggest names of the avant-garde, have been inventing the new cinema forms and transforming the existing ones, by deconstructing traditional cinema screen. Within the art of moving images they found a visual polyphony, a possibility to show several realities at the same time and to establish interactive contact with a viewer, and, conversely, to create a form that does not require neither viewer nor director.
Video art rejected traditional montage. From the moment it appeared, video montage ceases to be an operation within the film body. It becomes internal, it is carried out on different levels and planes, and it connects different media and creates different forms of expanded cinema. Today expanded cinema (a term by Gene Youngblood) can be interactive and multi-screen, it is able to create a special spatial environment within where the viewer can find her / his harmonious place, while the films themselves remind of classic painting and can last for several days."
---
More than that, it has become more evident that the movement of cinema and contemporary art towards each other is not a marginal path but one of the well established roads that were used by film directors Sergey Eisenstein and Dziga Vertov, and artists Marcel Duchamp, Hans Richter, Mikhail Matiushin and Kazimir Malevich. The MIFF Media Forum has become one of the first festival projects (along with parallel programs of the festivals in Berlin and Venice) devoted to a systematic research of this crossroad. By the way, in 2014 this mission is carried out not only during the festival: along the whole year the MediaArtLab and Museum and Exhibition Association Manege hold an educational program "Projections of Avant-garde".
Thanks to the Media Forum the MIFF public had an opportunity to watch daring experiments in the field of interactive cinema, sound performance and video art. The Media Forum venues presented works of such well-known artists and filmmakers as Eija-Liisa Ahtila, Peter Greenaway, Isaac Julien, Zbigniew Rybczynski, Eve Sussman, Fiona Tan, Harun Farocki, Omer Fast, Yang Fudong, Gary Hill, Jesper Just…
In 2014 the Media Forum continues to explore new territories. This year's topics touch upon experiments at the junction of visual art, multimedia theatre and enactive cinema.
A new term of enactive cinema has entered academic discourse in 2008. Since then it gained many fans, as well as some skeptics. The fans, who develop scientific research on brain reactions towards visual images and events in the movie, share breathtaking prospects of, for example, collective screenings of personal dreams within a friendly circle or on youtube. What helps to create a collective movie out of dreams is chairs with bio-sensors designed to provide a literal connection between the viewer and the projection. It is supposed to be modified in accordance with her / his emotional and psycho-physic state. In other words, unlike interactive cinema where a person chooses an episode change consciously, within enactive cinema the viewer modifies the movie without even noticing it. The skeptics are of course concerned about a viewer becoming a sort of guinea pig, and insist that one likes to re-watch good movies without sensors.
The main event of the Media Forum are a research conference From Montage of Attractions to Neurocinema (Central Exhibition Hall Manege), premiere of media performance "The Death of Tarelkin" created by the Open School Manege / MediaArtLab in collaboration with Centre for Dance and Performance TsEKh and Balet Moskva Theatre (Culture Center ZIL), exhibition "Mist. Halt" by Nikolay Onishchenko (with Triumph Gallery), interactive show "Kino-harakiri" by the Studio of Individual Directing.
---